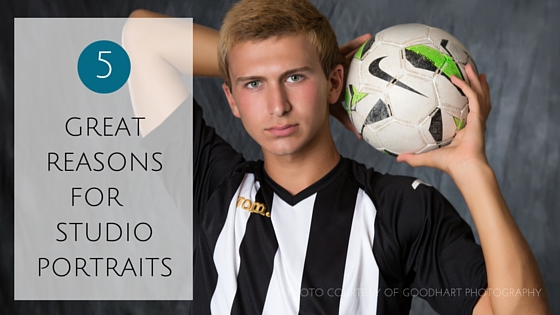 Why would a high school senior choose studio portraits, with so many beautiful locations available in northern Virginia?
Well it turns out there are lots of excellent reasons for spending time in a portrait studio! Here are five for your consideration:
1. Total Control of the Light. The quality of outdoor light varies — it can be harsh and bright, grey and cool, or beautiful and golden. And it can change many times over the course of a shoot, keeping a photographer on their toes to compensate and adjust. Light matters –the wrong lighting outside can put on a few pounds or wash your your features or give you raccoon eyes.
In the studio, the photographer has complete control of the light and it will always be beautiful.
2. No Nature. Yes nature is absolutely beautiful, but not everyone appreciates the downsides of being outside — like bugs, wind, humidity, makeup running, ticks, sweat, and poison ivy, among other things.
In the studio, your makeup, hair, and clothes will stay perfect! And changing clothes and touching up hair and makeup is a breeze in a studio.
3. Privacy. On a location shoot, there will be passersby and bystanders who may stop to check out the shoot.
No worries about that in the studio!
4. Efficient. With backdrops and different lighting modifiers, studio portraits are a great way to to get a variety of looks.
On location, you might have to hike around for a while trying to find good spots and light.
5. Props. Some props are better suited for studio portraits, like ribbons and trophies, valuable instruments, cats, etc…
So there you have it! Five great reasons to consider having your senior portraits taken in a studio rather than on location.
Or, get the best of both worlds — at Goodhart Photography it is just $75 to add a location shoot to a studio session.
Ready to book? Get in touch here.