These gifts are perfect for the holidays or anytime you need a gift for a photographer! I've used and loved all of these products for years unless otherwise specified.
Without further ado, here is my list of gift ideas for photographers! Please note that these may be affiliate links, which means I may earn a small commission at no cost to you if you purchase the item using my link.
Smart Phone Gift Ideas for Photographers
Chatbooks. This is one of my favorite gift ideas for photographers. Chatbooks is an app on your phone that lets you create these adorable 5×5 books every month. I make a point to take a photograph of the grace notes in my day (anything that makes me happy, no matter how small), and then I choose my 30 favorite images every month to print in my chatbook. It costs $60 for a dozen 30-page books, and if you use my affiliate link here you save $10 off your first order.
Instant smartphone printer. This is an updated version of the Instax printer I own. It's a little pricey but I love mine. I think photos should be printed and this makes it easy!
Iphone Photography Book by Scott Kelby. Scott Kelby is a wonderful photographer and author who owns KelbyOne, an online educational community for serious photographers. This book will help you get the best photography from your iPhone!
SLR Gifts for Photographers
MagMod Professional Flash Kit. I LOVE my MagMod kit. This is $190 so it is for serious photographers, but it works great, is easy to use, and it's a lot of fun to experiment with.
Portable Solid State External Hard Drive. This is a tiny hard drive with no moving parts so it's more reliable than other external drives. I absolutely love mine. All photographers have problems managing space on their hard drive so external drives like this are awesome.
Monopod for SLR. My monopod is Manfrotto but it's $100 more than this one, and Sirui is a great brand. I love my monopod for helping to support the weight of my camera yet also allowing me to be quick on my feet to move and follow the action when I'm shooting.
Memory Card Case. I have a bunch of memory card cases, including hard shell waterproof ones, but I love this one the best. It's light, easy to get the cards in and out of, and I like the strap for hooking it to a loop inside my camera bag. It's made for CF cards but I use it for my SD cards too.
Lens Wrap. Sometimes I want to carry my camera in my purse and not my camera bag. This wrap keeps it safe from all of the other stuff I'm carrying.
123 Launch It: How to Start a Photography Business When You Have No Money, No Time, and No Energy, by me! I wrote this book for women who dream of starting a photography business but have a few obstacles.
Fun Gifts for Photographers
A Camera Lens Mug. I love my camera lens mug! I have a couple of different ones, I use one as a pencil holder and one to drink from.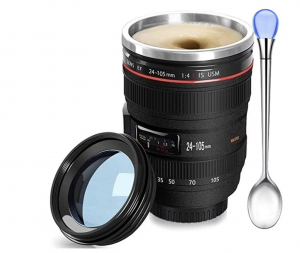 Christmas Ornament. Beautiful glass SLR camera ornament for your tree!
Photography Gloves. These gloves work great for those chilly days when you want to take photographs! I've tried other cut-finger gloves, but I like these bc they have 3M Thinsulate.
Camera Necklace. This is not the same as the one I have, mine is a Betsy Johnson necklace, but it looks similar. Costume jewelry but fun to wear sometimes!
That's it! If you are interested in more photography books about the art and craft of photography, you can check out my recommendations here.
If you enjoyed this article, you might also enjoy: