Today marked a year of Covid-19, a year from the day the coronavirus shut down Virginia and much of the world. I wish I had taken better notes on the experience but it was so hard to get a handle on what was happening. I was so disoriented. I know people like Taylor Swift put out two albums during the pandemic and William Shakespeare wrote some of his greatest works and Newton discovered gravity, and maybe I did as much in one year as they do in a month. But honestly I feel like I deserve a ton of credit just for keeping my sanity.
I remember how it began, those stories from China that seems so far away, until suddenly it was in Europe, and the first cases showed up in Washington State. I remember that sense of disbelief and overwhelm, shortages of sanitizer, not knowing what to do, not knowing how bad it would get, and feeling like the most important thing I could do to protect my family was run from store to store looking for one that had disinfectant wipes and toilet paper in stock.
When I went to UVA to pick up my daughter's computer after they announced a two week shutdown, I asked her, "Should we just take it all?" And she said, "No Mom, I'll be back in a couple of weeks." Ha. But at the time that really seemed possible.
And then everything shut down indefinitely. Suddenly all of the things we had been looking forward to were canceled. Travel, summer vacation, visits from friends and family, school activities, concerts, high school graduation — it all disappeared. And it was hard not to feel deeply disappointed about that, a little shell shocked.
Not to mention everyone was home 24/7. That took some getting used to! Eventually we found a bit of a groove, which mostly involved everyone taking over a section of the house and then coming together for meals and movies/TV shows. After a bit of a rough start, I actually started to like having my husband around.
In the beginning though, I really wanted to stay on top of the coronavirus. I had no clue I'd end up living with a year of covid-19. I checked the numbers every day, I listened to Dr. Fauci, I tried to make sense of the conflicting data and the conflicting analyses. What was safe to do, what should I avoid. I wanted to be optimistic, life will be better in June, it will be under control then. It wasn't really until the middle of the summer when I fully accepted that things were not going to go back to normal anytime soon.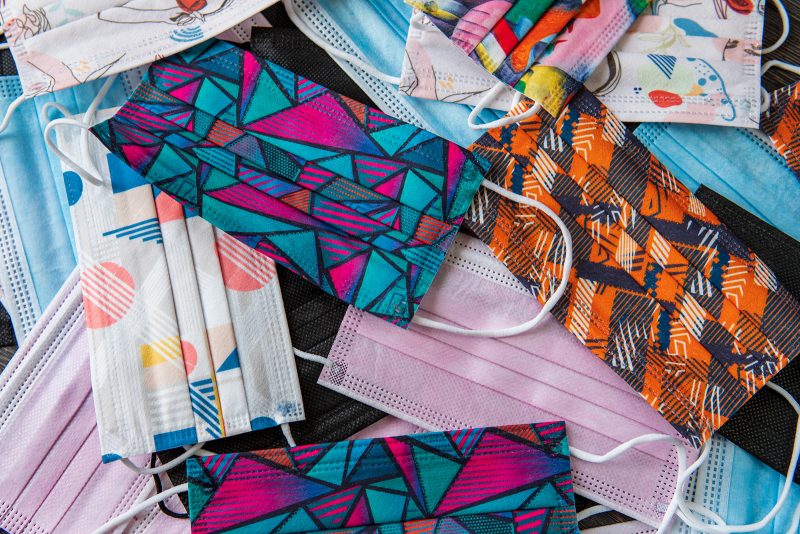 Looking back, there's a part of me that wishes I had taken more advantage of the quiet that came with the shutdowns and come up with a major project to do. Lots of people I know have been busy with major home renovations, or bonding with their families for months at the beach or in the mountains, or launching wonderful online communities or setting up new side hustles.
My year of covid-19 was nothing like that, nothing grand. But there were still grace notes! I hope my kids feel that way too, but it's been harder for them. My daughter never returned to UVA, she finished up her senior year this past fall from home and recently started work — telecommuting of course. Learning that you can overcome deep disappointment and find a little bit of a silver lining is a hallmark of resilience. At least, that's what I'm telling myself.
So here is my very short list of very small humble good things that happened during my year of Covid-19.
Year of Covid-19 Grace Notes
Restoration of family dinner and movie/game nights. Everyone was home, which was so rare! In the past, my kids had evening activities or in the case of my oldest son, evening classes. My husband volunteered or worked late. I started using my cookbooks (instead of just collecting them).
Pandemic painting. I spent several happy months playing with my paints and drawing, taking online art lessons, throughout the spring and summer when my photography business was mostly flatlining.
Online communities and coworking. In the fall, I found ways to connect with and cowork with people all around the world through groups like Ness Labs and LaunchMBA and London Writers Salon.
Website overhaul. My website was looking a little long in the tooth, with old images and an abandoned blog. I did a massive overhaul last August.
Found ways to work safely. While business took a drastic hit, I was still able to photograph headshots, families, and high school seniors this past fall and even through the winter.
Home Gym. My family wanted more options for exercise, and no one was coming to my home studio. So I gave up my studio space in the basement and I don't think I'm every getting it back. We've added an elliptical, a bike, weight machines and more.
Online photography course. I started creating a photography course. It's a lot harder than I thought, getting comfortable with the video editing and being in front of the camera. There's so many moving parts to a course. But I'm working on it, slow and steady.
Lots of walking. I've walked to the Potomac River more times in the past year than I did the previous 25 years I've lived in this house. It's just so beautiful.
Upgraded my home office. I love it! I spend more time than ever before seated here, and now it's comfortable and bright and more ergonomic.
Writing. I've been writing more, mostly expressive, not for any specific purpose. I used to journal all the time before I had kids, and it feels good to do it again. The spillover effect is more writing on this blog, and I started a twice monthly newsletter, "A Gossamer Thread".
It's interesting to wonder how the positive habits and things we've learned during the year of Covid-19 will carry into the future. But I'm sure I have lots of company in being thankful the vaccines are becoming available and spring is just a few weeks away. I may have tried to make the best of things this past year but I am definitely READY for covid-19 to become a distant memory.
---
If you enjoyed this post, you might enjoy my monthly newsletter!