I love January.
I admit it, I am someone who loves planning, loves planners, loves paper, loves possibilities. And yet I admit, I always, ALWAYS falls woefully short of what I want to do and accomplish. I mean, I live in crazy northern Virginia where the pace of life can swamp even the most organized of souls.  I have three kids, I am running a photography business, and I have more bright shiny ideas that interest me than I could possibly do even if I could clone myself five times.
But does that discourage me?
Not in the least.
Every January, I read organizational books, purchase planners, stalk planning blogs, and load my ipad with organizational apps.  There are so many wonderful people out there creating all kinds of inspirational products and tools.
And little by little, I do make progress. I mean, I take two steps forward and one step back sometimes, but my overall trajectory is heading towards a manageable, balanced, organized life.
Planner Pad
Today I'm going to talk about my favorite planner, the Planner Pad.  I love this product so much. It has come closer to anything else to keeping me on track, and I have tried pretty much every planner on the market.
It is a monthly and weekly planner.  The month is a 2-page calendar spread, and the weekly is also a two page spread with columns for each day of the week (plus one extra column for notes and expenses).  The weekly planner is divided into three sections.  The top section is for lists — you choose the subject.  The second section is for your daily to-dos, where you can list the things you need to do that day.  And the third section is for your daily schedule.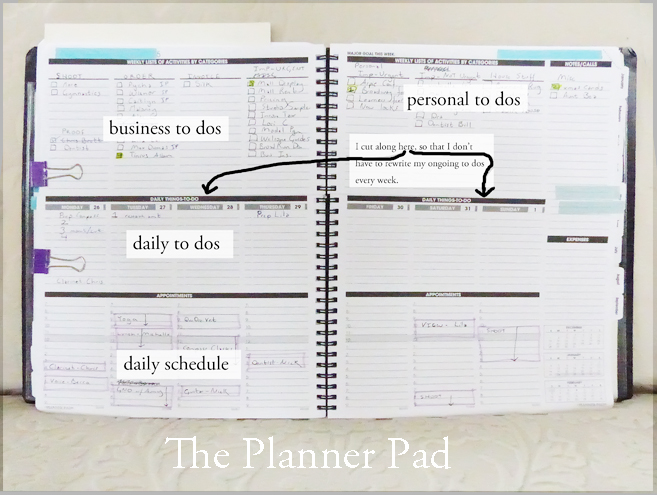 How I Customized My Planner Pad
You may notice in the picture above that I have cut the top third of my planner so the pages turn independently. Yes this messed up my monthly planning pages, but, the advantage is I can keep the same top third for 2 weeks or more so I don't need to rewrite unfinished tasks as often.
Lists
I own a photography business, so the left side of my planner is used for my client workflow. On the right side, those 4 lists are used for President Eisenhower's Decision Matrix – important-urgent, important-not-urgent, urgent-not-important and random. Actually, random is my own addition, Eisenhower's final quadrant was not important and not urgent, and if that is the case I figured I didn't need to use valuable real estate on my planner to list things that don't need to get done! I number everything in this section, to ease in transferring to-dos below.
Daily To-Dos
The second third is for daily to dos. I put things like house chores here, and also transfer the items written above in the top third here. Rather than rewrite them, I just write their numbers.
Hourly Appointments
And the bottom third is the hourly appointments. I will check Google Calendar and block those times out that have already been scheduled, and then will plan my day with the stuff from the 2nd third.
So, why do I use this planner if I also use Google Calendar? Google Calendar is GREAT for appointments, but I never found it as useful for managing and organizing my tasks. Plus, I just like paper products. In a former life I created altered books, memory books, hand-sewn books, and scrapbooks.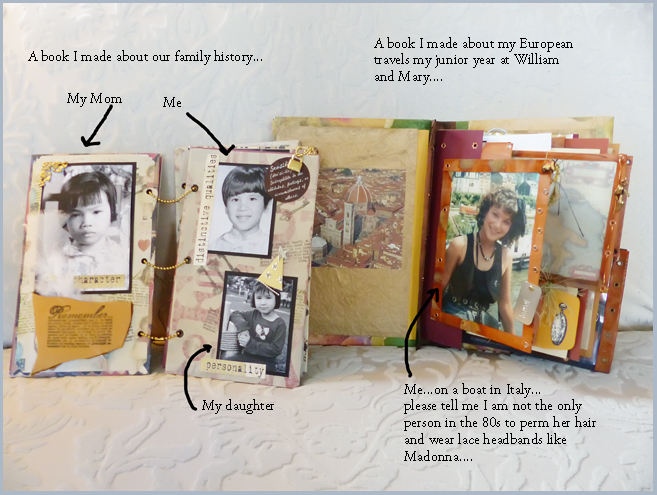 My one beef is that the planner is not PRETTY! As a visual person, I love beautiful things, and dearly wish this planner was beautiful too. I can see why they don't do this, because my definition of pretty could be your definition of tacky, right? I've never liked Franklin Covey's efforts to create pretty planners — none of them were my kind of pretty, kwim?
If you'd like your own planner pad, you can purchase it here.
So what is your favorite paper planner?
To learn about my favorite organizational app, click here!