Do you FEEL too busy and too stressed
to learn photography?
Maybe this is you...
the Chief Everything Officer of your family
with a never-ending list of things on your to-do list
a dozen moving parts to coordinate every day
to manage your life
and the lives of those you care for.
Maybe you'd love to take better pictures
but you tell yourself you have no time
and that you'll do it later,
when the kids go back to school full time,
or when you finish the big project you're working on,
or when you retire.
YOU DON'T HAVE TO WAIT --
YOU CAN learn photography NOW!
What if I told you that you could dramatically improve your photography by watching a short video a few days a week? And by simply applying the concepts you learn using any camera you have handy -- even your phone?
It's true! You can learn and practice observation, finding your subject, seeing the light, and using the elements of composition with ANY camera, at ANY time!
You don't need to spend hundreds of dollars on workshops or private lessons. You don't need to wait until you have hours every day to practice. You can start NOW.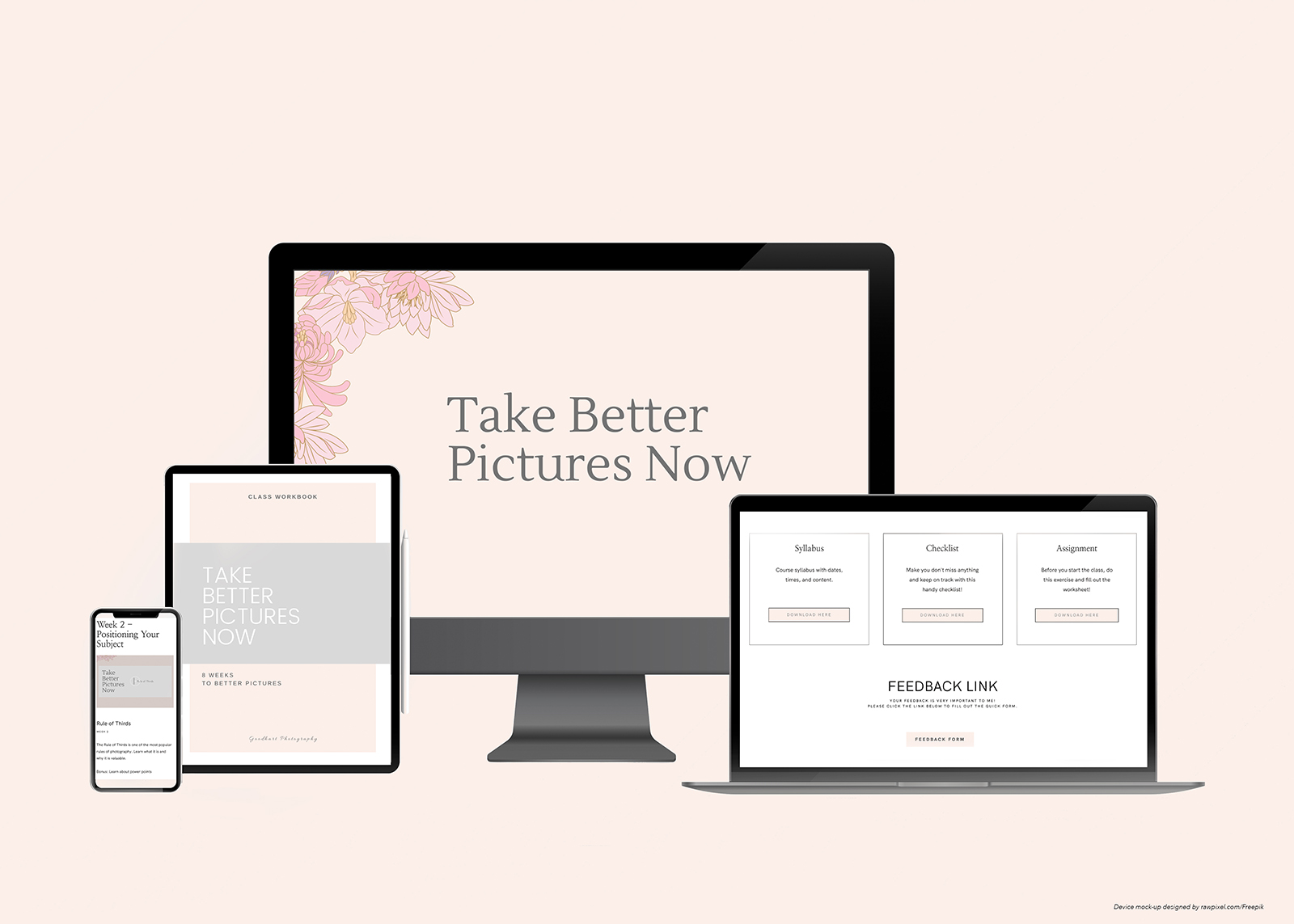 8 WEEKS
of bite sized lessons
giving you the knowledge you need to take BEAUTIFUL photographs.
Here's What You Will Learn
How to Choose Your Subject
Light is the foundation of photography. Learn the language of light, and how to see it and use it.
Deepen your understanding of what it means to see. You can't photograph what you don't even see!
Learn to think like a photographer as you choose your subject and place it in the frame of your camera.
Mistakes Photographers Make
Nurturing Your Artistic Vision
Learn the major elements of composition and how to use them in your photography to take photos with impact!
Learn about the common mistakes photographers make, and
how to avoid them.
Learn how to nurture your point of view, and develop your artistic vision.
Each week, you'll have access to 3-5 new videos teaching a bite sized concept. Studies show that learning small concepts over a longer period of time and linking them together is more effective than spending several hours in a short educational burst.
In weeks 2, 4, and 6, I will host a live Q&A session! Don't worry if you can't make it, you can send in your questions in advance and the event will be recorded.
Assignments are carefully created to give you an opportunity to practice the concepts learned. You can go on a photowalk to do the assignments or do them as you are going about your daily life.
There will be a private Facebook group for members. I hope you'll join and share your images, and perhaps find an accountability partner or group! I also encourage sharing of images on Instagram.
The last class will be a celebration of your progress! We'll have an online art show and talk about what's next for your photography journey.
A beautiful workbook for you to print, to tape your photos in, and to reflect on the assignments and observations. Taking a moment to reflect on your experiences helps you maximize the benefits of them.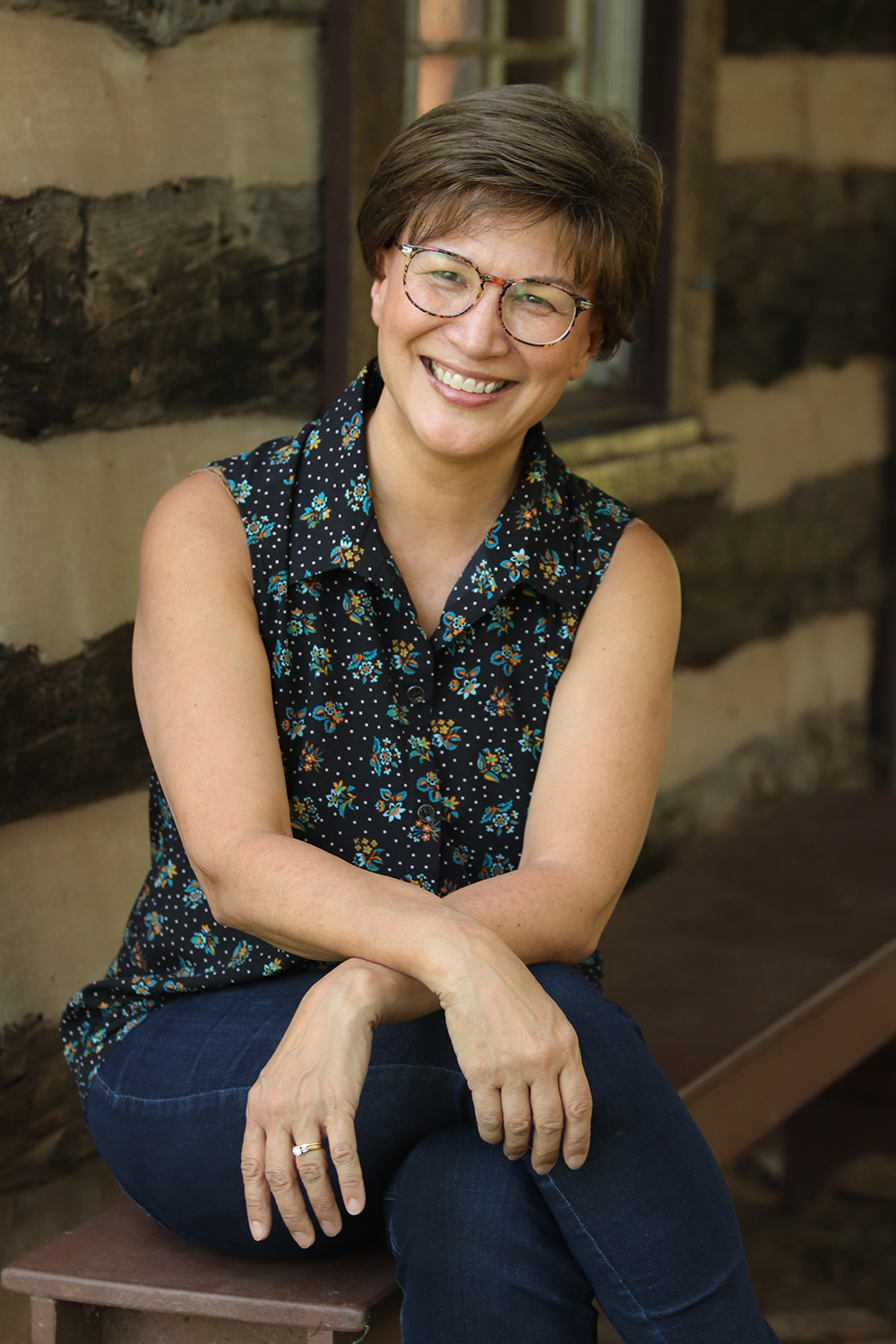 I draw my inspiration from the world around me. Extraordinary beauty is all around us, if only we have the eyes to see it.
Photography is a wonderful undertaking, so rewarding and so fun. I love helping my students make progress and take photographs they are proud of, that reflect their own unique artistry and vision.
It would make me so happy to walk with you on your photography journey!
Please reach out if you have any questions.
2009 portrait photographer
How long do I get access to the course for?
You have lifetime, 24/7 access to this course! As long as I am running the course, you'll have access to the latest updates, learning tools and resources, including the live Q&As. The Art Show however is reserved for the current cohort.
Do I get any books or manuals?
Do I need a DSLR or Mirrorless camera?
All you need for this course is an internet connection and a computer, internet-capable tablet, or smart phone! The course content is available 24 hours a day. The course includes weekly workbooks for you to print and use, and the workbook is available for purchase on Amazon.com
No! You can take this course with ANY camera. This course is about the art of photography, not the technical aspects relating to the camera itself. It is about training your eye, and learning how trust your vision to make photographs.
Do I need any photography experience?
Who is this class NOT for?
No, this course is designed for photographers (and would-be photographers) of all levels.
If you are an experienced photographer who is already happy with your photography, then this course may be of limited benefit to you. This is also true if you already practice careful observation and apply the elements of composition to your work.
What makes this class different?
Many courses tend to get too technical. The truth is, while the camera and equipment matter some, the most important factor in photography is YOU. You and your vision, your powers of observation. In this course, you'll fine-tune those powers, and you'll learn how to use age-old elements of composition to create beautiful, impactful images. Plus you'll also have a chance to develop community within the Facebook group, and you'll be able to participate in live Q&A sessions every other week. Finally, you get LIFETIME access!
I designed this class with moms in mind, but it is suitable for ANYONE between the ages of 14-114 who wants:
1. a fun new hobby that will open doors and create connections
2. to better capture the precious memories and stories of their life
3. to explore photography as a means of self-expression
4. to increase their powers of observation
5. a creativity practice
6. to take better pictures now!
LIMITED TIME OFFER
Early Bird Pricing Just $37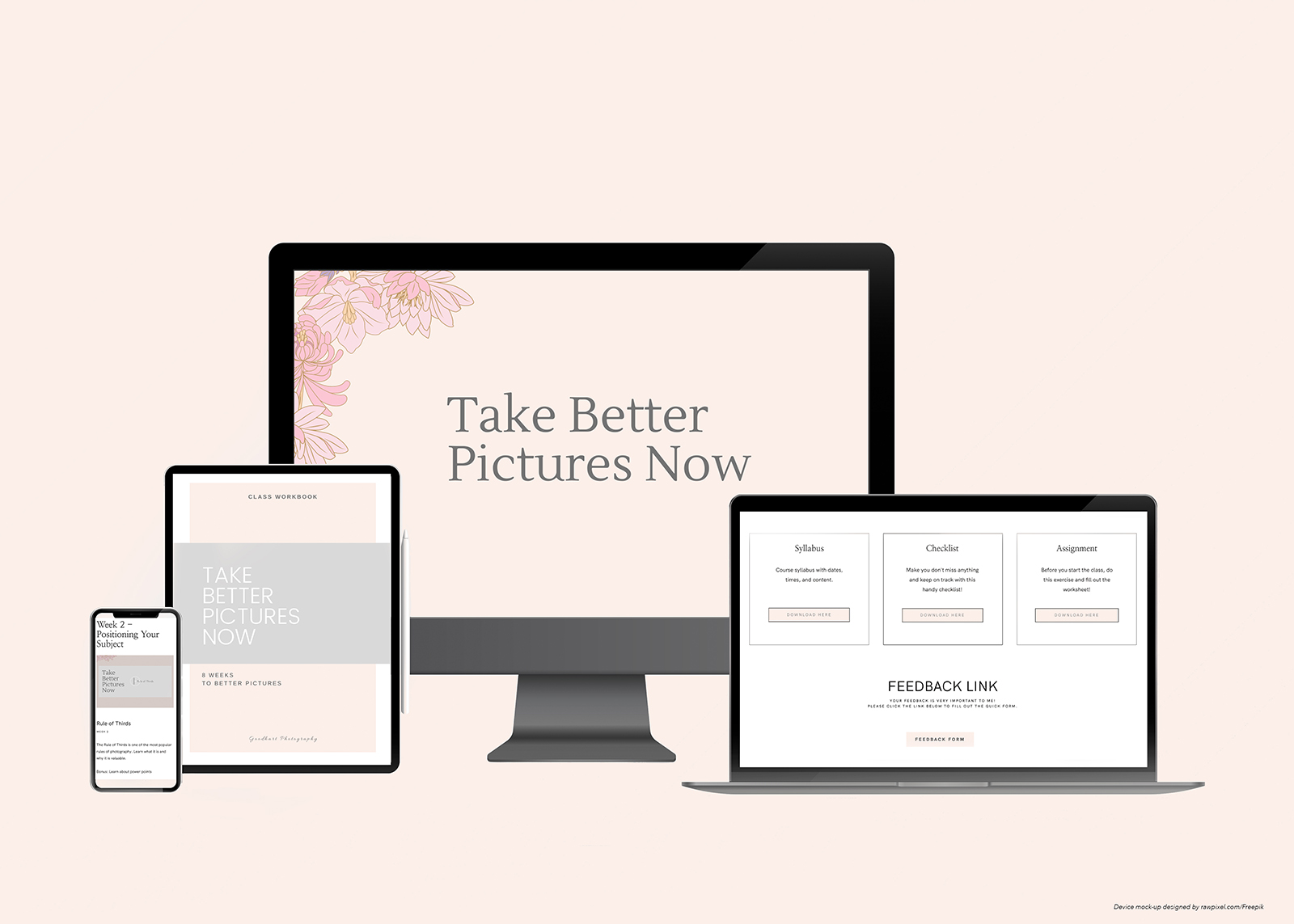 8 WEEKS OF
Video Training
Photography Assignments
Photography Workbooks
PLUS
Facebook Community
3 Live Q&A Sessions
1 Live, online Art Show
and these
DOWNLOADABLE BONUSES
Guide to Organizing Your Photos
Photography Challenge Workbook